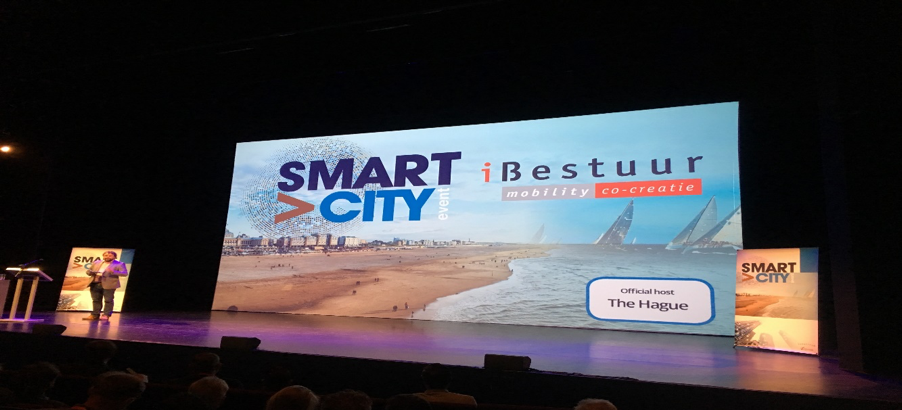 OUR REPORT ON THE SMART CITIES EVENT, DEN HAAG, July 2018
In 1950, around 70% of the world lived in rural areas and 30% in cities.  By 2050 these percentages will have reversed (UN World Urbanisation Prospects, 2014). Much of this growth and shift will be in developing economies.  It is said that if everyone on earth lived a typical Western lifestyle, our ecological footprint would be so large that we would need four planets to live on!
As our world's population grows and becomes more urban, we must become much more efficient and 'smart' about how our cities function.
Last week I took part in the 8th edition of the annual Smart City Event in the Hague, Netherlands. The use of smart technology and big data is already evident in the Netherland's energy, waste and transport systems, health & social care provision and in its prison service.
Delegates and speakers from governments, business, academia and knowledge institutions shared and discussed their perspectives on what makes 'Smart Cities' and whether the term is meaningful.
One speaker, Oualid Ali, President of the Futures Cities Council asked a searching question: what is the alternative to being a 'Smart City'? An 'Intellectually Challenged City'? Ali noted that digital technology and data are nothing without innovation and ideas from people.  His preferred term is "Future Cities" with the focus being on innovation, digital or otherwise.
When the jargon is stripped away we are left with the principles of sustainable development, within which 'smart' or digital solutions move cities toward our overarching goal of sustainability.  There are huge opportunities for cities to gather and use data to reveal patterns of use and behaviour in order to improve the efficiency and effectiveness of our buildings, transport and flows (waste, water, energy). Being 'Smart' is about making these flows more efficient and sustainable for the benefit of the City's people.
City development is not a simple topic which can be easily labelled.  As we saw during the conference, the possibilities for innovation are endless.  However, here are the top five questions cities should ask as they strive to become 'Smarter":
Do you really understand the needs of business and citizen? There is no single blueprint to make Smart Cities. Does your approach consider challenges facing your particular city (perhaps energy, waste management, mobility, or safety) and understand what your citizens consider to be a 'good city' to live? A top down 'government knows best' approach rarely works.
Are interests aligned? Are you bringing your public sector, businesses, academia, consultants and civil society together with a goal of knowledge sharing and learning best practices from others? Ingenuity and a culture of openness is needed if you are to move toward a city that is fit for the future.  Organisations such as C40 Cities support this approach at an international level.
Big data means big security – are you ready? The implications of gathering and storing vast quantities of data and the importance of cyber security cannot be an after-thought. Do you understand the levels of risk involved, are they at the fore, how good is your understanding of legal and regulatory frameworks?
How will you get everyone over the digital divide? How will you cater for citizens who cannot access digital data and technology, perhaps because of health, status or poverty? Such citizens risk becoming marginalised, perpetuating urban inequalities.
How will you pay for it? The public sector will be a key enabler, but what blend of public and private financing will be required? How will you structure the blend to fit your context and the initiatives you wish to pursue, minimising risk and maximising benefits?  An element of ''spend to save" will usually be needed to realise long term efficiencies and cost savings, and you should reflect appropriate timeframes in your upfront financial analysis.
Interest in 'Smart Cities' has grown rapidly and is now central to urban policy, planning and development.  But do 'Smart' or 'Future' cities' offer a panacea to development and the challenges our cities face today?
Of course not, but these concepts reflect a direction of travel towards a world where we tackle the challenges of population growth, climate change and resource shortages.  More efficient, sustainable cities will better serve the people who live in them today and in the future.
Written by Lynne-Marie Thom who leads the Smart Cities, infrastructure and local economic development activities at Caledonian Economics.  She has a background in financing and implementing national infrastructure projects.  She worked with Scottish Government to develop the 2015 National Infrastructure Investment Plan including the Digital thematic component, and has helped deliver infrastructure at national, municipal and local levels, using a variety of innovative funding mechanisms to target development of growth-enabling infrastructure.